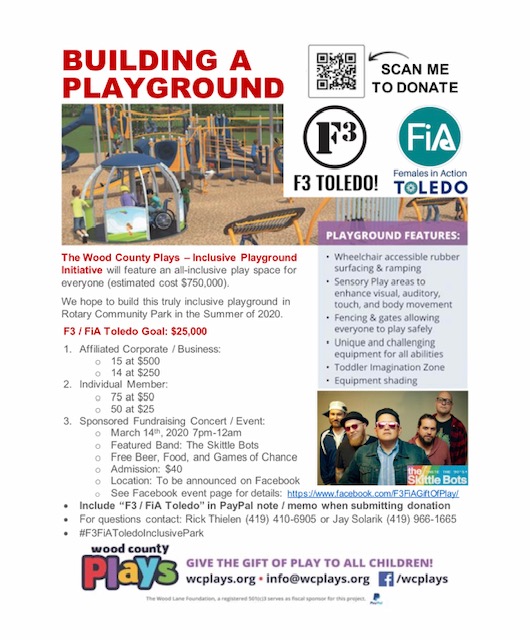 F3 & FiA are combining their efforts and putting their community focus towards a new and very exciting goal! We've aligned with Wood County Plays to plan to raise $25K towards a $750K all-inclusive playground being built in Perrysburg! This playground will be the first of its kind in Perrysburg as well as the entire county. The Park is meant to allow EVERYONE to enjoy the benefits of a playground, no matter their disability. What better cause than that?
We have a few methods of getting to this very attainable goal!
1 – Member donations-donate as much or as little as you want by going to wcplays.org. Suggested levels of $25, $50+, or at any level that you are comfortable with will help us meet our goal. In the donation memo line, be sure to put "F3/FiA Toledo" so that we can keep a running total of donations!
2 – Business donations-the donation is to a 501(c)(3) organization, so you can pitch to local companies as an awesome tax write off opportunity. Many companies offer matches to employee donations, so let us know if you need help with pitching the idea! Suggested levels of $250, $500 or more will help us reach our goal.
3 – An awesome concert event is being planned as we speak for March 14! The Skittle Bots (F3-Billy Bob-his FiA wife is Saturn) will be the featured band for the event to help raise some serious cash! Price of admission will include free food and adult beverages, games of chance, raffle gift baskets and more. Mark your calendars and tell your friends to be ready to come out and party for a great cause!
Should you have any questions, please feel free to contact:
Jay "Thai Guy" Solarik
419.966.1665
jsolarik88@gmail.com

or

Rick "Huckleberry" Thielen
419.410.6905
thielenrichard@gmail.com
Visit, Like, Share and keep up to date by visiting https://www.facebook.com/F3FiAGiftOfPlay/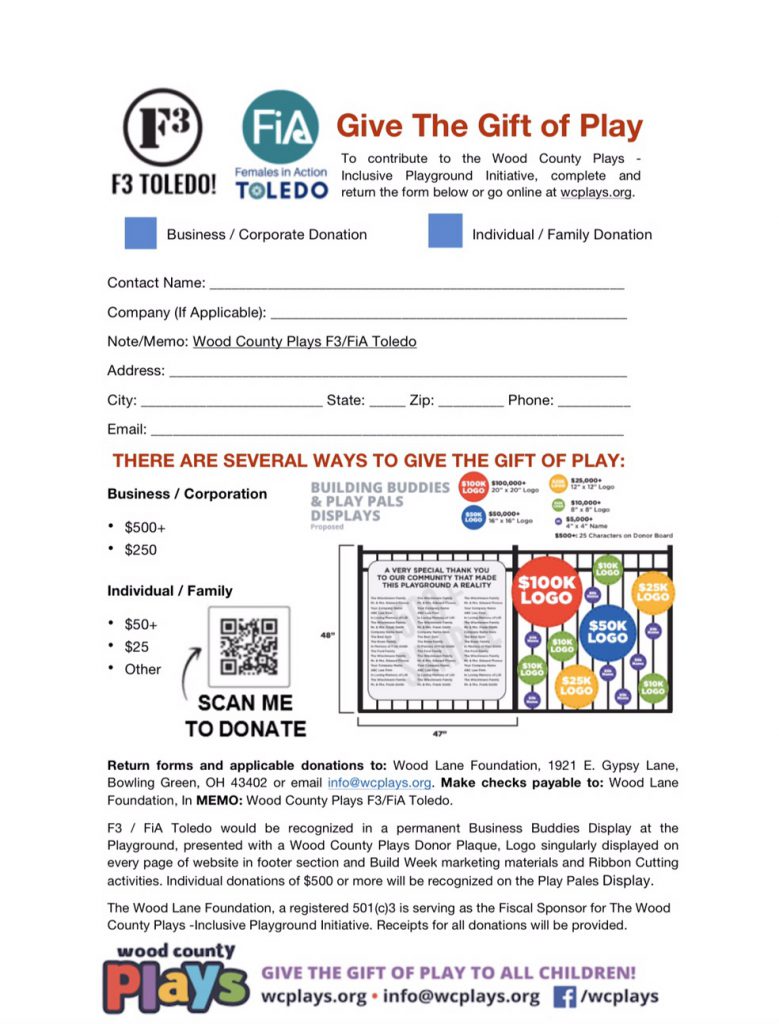 http://f3toledo.com/wp-content/uploads/2020/08/F3Logo-White.png
0
0
Ticket
http://f3toledo.com/wp-content/uploads/2020/08/F3Logo-White.png
Ticket
2019-11-12 00:35:29
2019-11-18 08:42:47
F3 & FiA Gift of Play