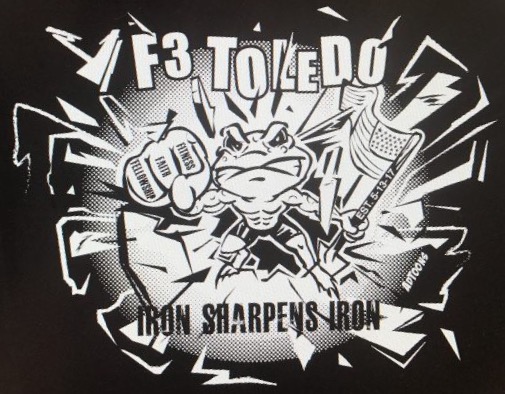 F3Toledo Monthly Ruck Pre-Blast
Final Four Pub Ruck
April 6th, 2019
2:00 pm – 5:00 pm

Packing list:
At least 20lbs ruck weight
Reflectors on your ruck
Headlamp (probably not needed, but bring anyways)
Index card with emergency contact information, medications, and allergies
Athletic equipment donation (see below)
Money for beer!
Meet in the parking lot of Shawn's Irish Tavern, 4400 Heatherdowns Blvd, Toledo, OH 43614
Mission, Principles, and Disclaimer will begin at 2:00 pm sharp.
Everyone is asked to drink responsibly. We will ruck to Doc Watson's and Earnest Brew Works and spend approximately 30 minutes at each for rest and/or one beverage, finishing back at Shawn's by 5:00 pm.
Total rucking distance will be six miles. Upon our return to Shawn's Irish Tavern, the ruck event will end, and the F3Toledo Winter Challenge patch and awards presentation will begin. Final Four Game #1 is set to tip off shortly after 6 pm.

Disclaimer: Over 80% of the route has sidewalks which will be utilized. A portion of the ruck from The Earnest Brew Works back to Shawn's will require us to ruck on residential side streets. Everyone will need reflectors on their rucksacks. Headlamps should not be needed but bring them anyways. Bright clothing is encouraged.
Any event involving alcohol is a serious proposition and rucking the busy streets of South Toledo is equally as serious. We are combining the two. This will be a fun event, but also an event in which safety is of the highest importance.
Service Project: Each PAX is asked to bring one of the following:
A new or gently used basketball
A new or gently used pair of basketball shoes (preferably men's sizes 9-12), or
Any other new or gently used sports equipment
All donations will be presented to Uplyft Toledo, a non-profit organization which aims to give all children in NW Ohio the opportunity to participate in fitness activities and enjoy the associated benefits. For more information, visit http://www.uplyft.today/. F3Toledo PAX Josh "Chick Pea" Pyzant is a co-founder of Uplyft Toledo and excited we are partnering with his organization for this event.
http://f3toledo.com/wp-content/uploads/2020/08/F3Logo-White.png
0
0
Ticket
http://f3toledo.com/wp-content/uploads/2020/08/F3Logo-White.png
Ticket
2019-02-15 22:04:26
2019-03-19 17:40:06
April 2019 Ruck - Pre-Blast