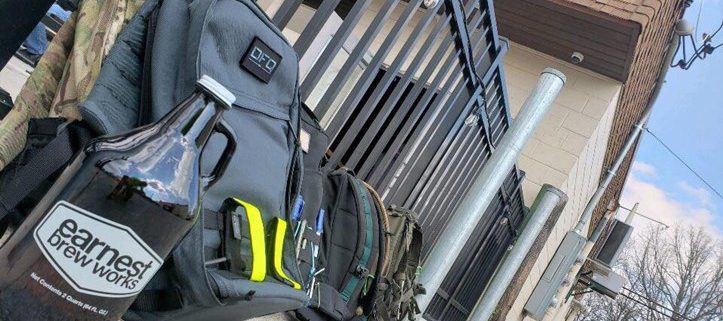 Final Four Pub Ruck
April 6, 2019
AO: South Toledo
QIC: Geppetto

PAX: Klinger, Mayor, Rhonda (Hate), Thumper (Hate), Bambi, Stark, TuPac (Respect) Geppetto, Jimmy Dean, Bob Vance-Vance Refrigeration, Ticket
No FNG's so right into Mission and Principles:
F3 – Fitness, Fellowship, Faith
Mission – Plant, grow and serve small workout groups for men for the invigoration of male community leadership.
The core principles of F3 are that it must:
Be free of charge
Be open to all men
Be held outdoors, rain or shine, heat or cold
Be led by men who participate in the workout in a rotating fashion, with no training or certification necessary. You versus you. Modify or stop an exercise if you need to. The most important thing is that nobody gets hurt.
End with a Circle of Trust
We circled up in the parking lot of Shawn's Irish Tavern at 2pm sharp. Weather was absolutely perfect. Low to mid 60's with a very light breeze. The SkyQ blessed us today!
Pax were organized 2×2 with the flag at the front left (more on that later) and our two coupons directly behind the flag. Two pieces of the F3 Ohio steel were used as the coupons. PAX were paired up as follows:
Klinger-Mayor
Bambi-Rhonda
Jimmy Dean-Bob Vance, Vance Refrigeration
Stark-TuPac
Ticket-Thumper
These pairings would remain constant throughout the ruck.
We headed out of Shawn's parking lot with Doc Watson's as our first way point. We traveled northeast on Heatherdown's Blvd and Klinger and Mayor set a blazing pace! The PAX didn't miss a beat and our formation stayed tight. As we approached the intersection of Heatherdowns and Byrne we passed Flo's (respect) insurance office and took a photo as the PAX rucked by. We missed Flo today and hope he gets better soon as he was under the weather and not able to attend the Pub Ruck. YHC instructed the PAX to turn right on Byrne Road and was quickly corrected by Stark that was not the correct direction. YHC was reminded of his directional deficiency numerous times by Bambi throughout the remainder of the ruck!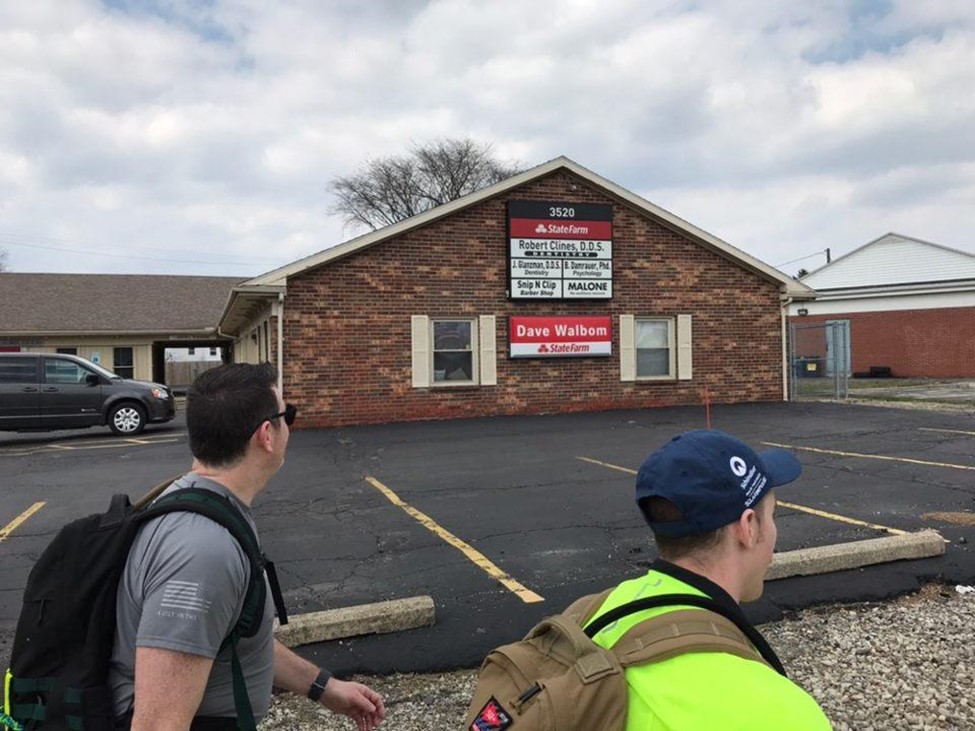 As we approached Doc Watson's we passed the bar to cross at the intersection and avoid playing Frogger across five lanes of Byrne Road. This added a little distance to our ruck but at the pace we were setting we needed more miles in order to stretch the event to the three-hour minimum. It also gave us a little extra time at each stop, which no one had an issue with. We entered Doc Watson's parking lot and planted the shovel flag in a small mulch island near the entrance. We would have about 40 minutes at the bar, again due to our blistering pace and Bambi and Rhonda continued to ruck and get some miles in.
After some initial stares from the bartenders and patrons we settled in at the bar area. We took off our packs and sat down for some rehydration. Waters all around and beers that ranged from Thumper's "Can of the month" Miller High Life ($1.14 – it is the Champagne of Beers!) to IPA's. TClaps to Stark for picking up the tab on the beers! Rhonda and Bambi joined us after getting their extra mile in and we had a few minutes remaining so a round of Miller High Life was ordered and drank quickly in order to get back on our route by 3:15.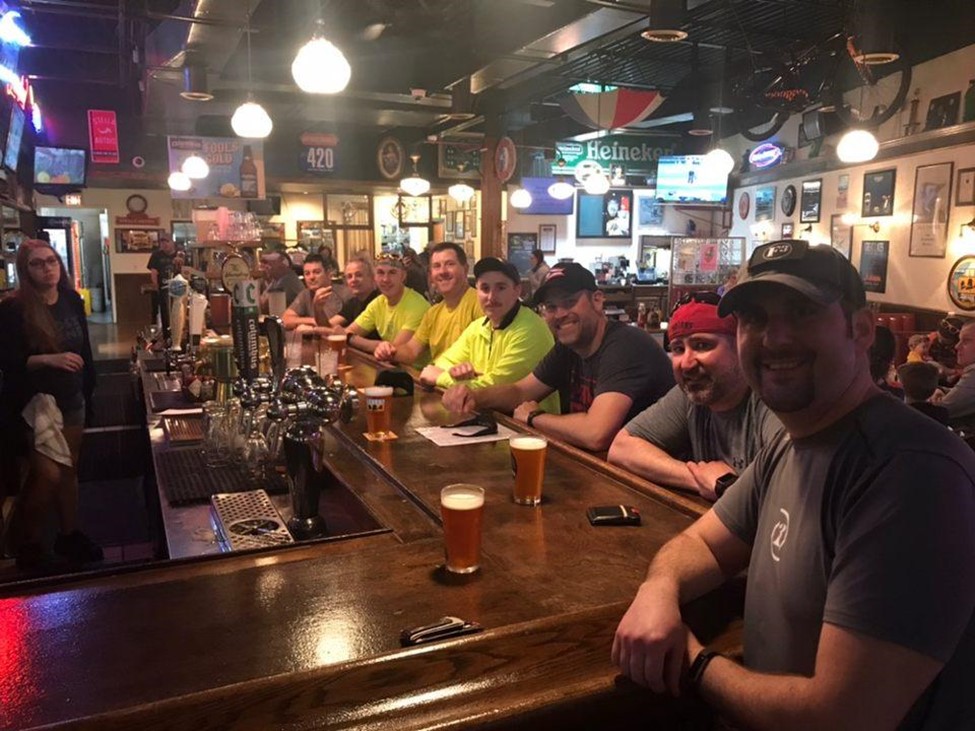 We circled up outside Doc Watson's and YHC did a quick Count O Rama to make sure all were accounted for. We grabbed the flag and headed south on Byrne towards our next stop, Earnest Brew Works. We continued our fast pace and covered the 1.8 miles to Earnest in under a half hour again giving us some extra time to enjoy, in YHC's opinion the best craft brewery in NW Ohio.
We planted the flag, took off our rucksacks and were warmly greeted at Earnest by smiling faces and wagging dog tails as Earnest is pet friendly! Mayor picked up the tab for the beers at Earnest which ranged from the easy drinking and aptly named "Easy" to the flavor packed double Oatmeal Stout "Big Oatis". Bambi and Rhonda put in some extra miles and joined us after for a quick beer before we headed out towards our Endex.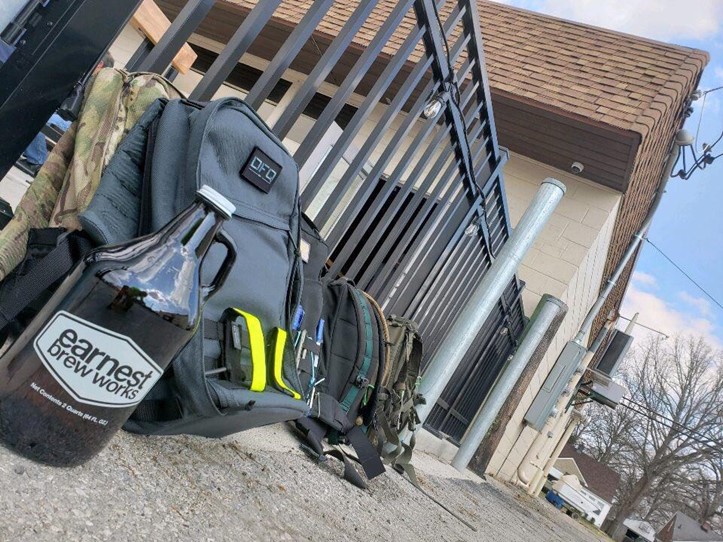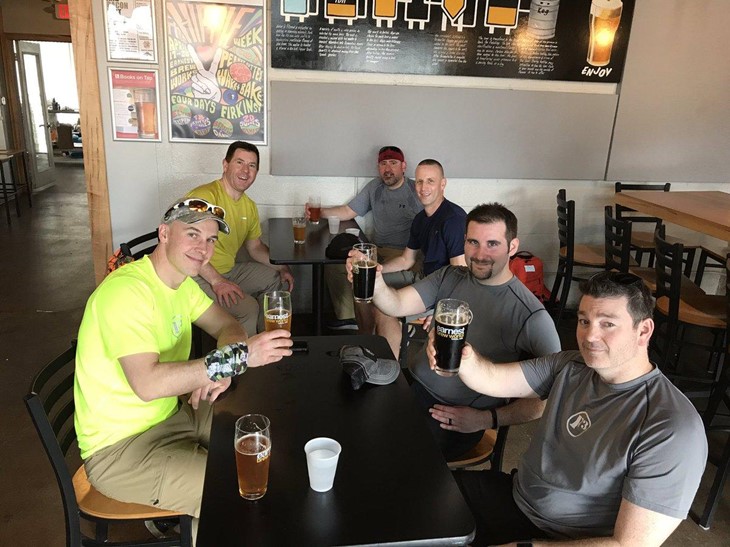 We now made our way back to Shawn's and YHC again sent us in the wrong direction. Instead of the shorter 2.3-mile route we ended up taking the slightly longer 2.4-mile route back up Byrne Road to Heatherdowns. Again, this ended up being OK as we continued to move at a very quick pace, regardless of which pairing was at the front.
We debated heading to The Distillery for a final beer however this would have put us over our official end time of 5pm. So, we decided to head back to Shawn's and wrap up the ruck portion of the day and transition into the Winter Challenge Patch and awards presentation.
Ended with:
Count-O-Rama – Eleven
Name-O-Rama


Sharing of the six – TuPac. EH'd by Casper at Starbucks. Posted to give F3 a try and has literally not stopped posting since that day. Got his name because during his naming at the first workout he told everyone that he was going through some "changes" in his life. Doesn't really like to exercise but loves coming out for the fellowship and for everything that F3 has done for his life. Aye!
Ball of Man – Prayers for Bambi's father-in-law, for Patriot and those going through job and career changes and for our F3 brothers dealing with marital and relationship issues. Thanks and praise to the SkyQ for the great weather, fellowship and this group of HIM's who continue to amaze with their dedication to each other and to the community.
Spreadsheets from the Gloom:
We lost count of the number of car honks early, but a conservative estimate would be thirty+. TuPac and Stark completed quite a few air presses while carrying one of the coupons. Respect!
Total miles covered: 6.6. Pace: Exactly 15:00. Great work by all to keep a four mile per hour pace for the entire ruck. We were UNDER 15min/mile for the final 2.4 miles stretch!
Bambi and Rhonda rucked to and from the event! Combined with their 3-hour morning ruck, they covered over 25 miles today. Nice work men!
Multiple times cars stopped along our route to ask what we were all about. One woman, who was in the military was very happy to see us out supporting the community.
TuPac was in EH mode and talked to people at Doc Watson's and Earnest about F3Toledo.
YHC continually asked for the flag to be kept on the left thinking it has military significance as he heard Klinger direct someone at The Frog to keep the flag on the left. Bambi asked Klinger about this and there is no military significance when there is only one flag. As we talked about it, Klinger recalls the flag getting caught up in trees during The Frog and asked the flag to be moved to the left side to avoid entanglements. So there you have it!
Service Project: Sports equipment donations were collected for Uplyft Toledo, a non-profit organization which aims to give all children in NW Ohio the opportunity to participate in fitness activities and enjoy the associated benefits.
Items collected included basketballs, soccer balls, athletic shoes, baseball helmets and bicycle helmets from the awesome gals at FiA Toledo!
It was an honor to lead the monthly ruck!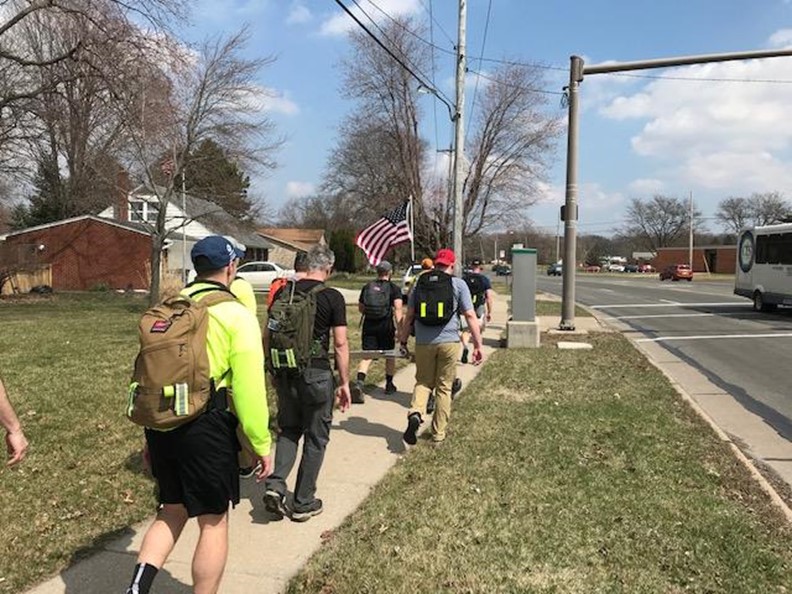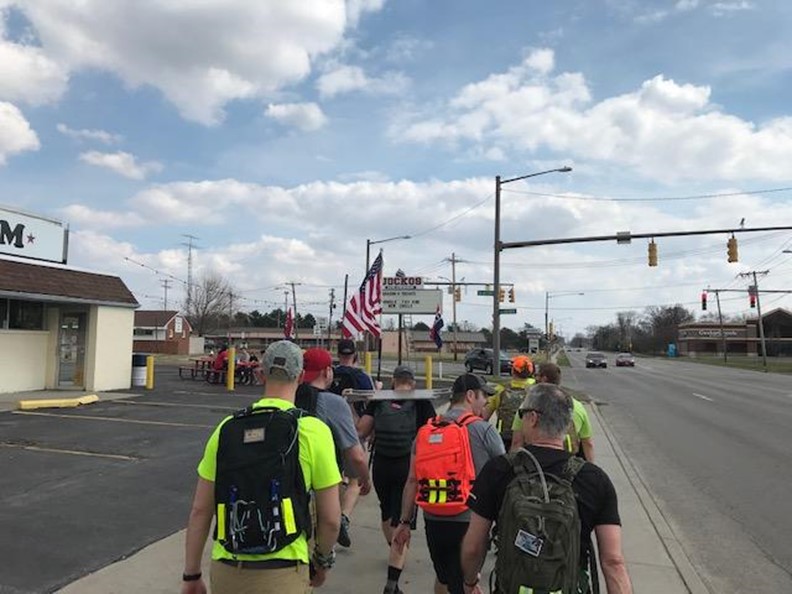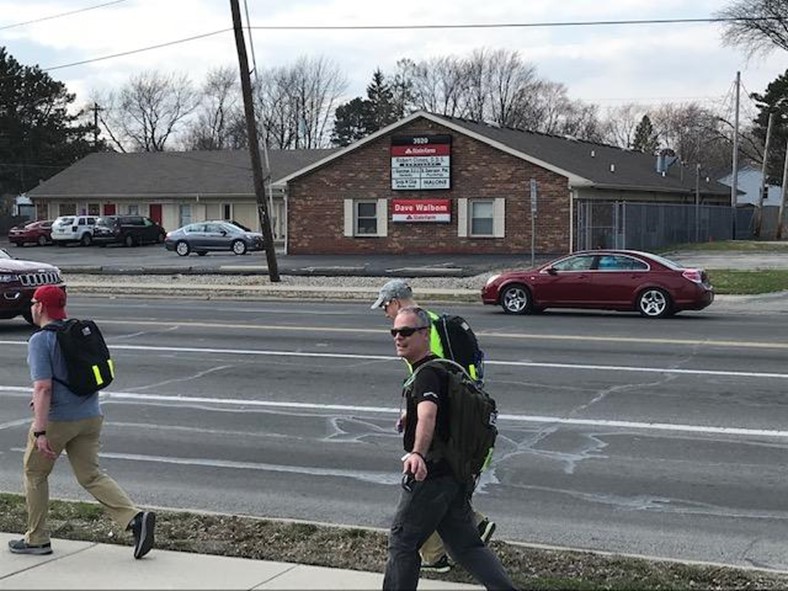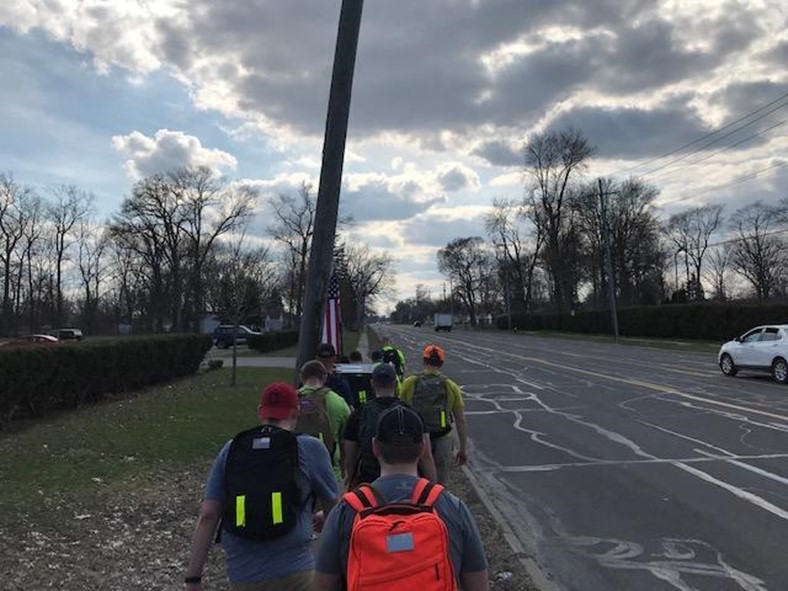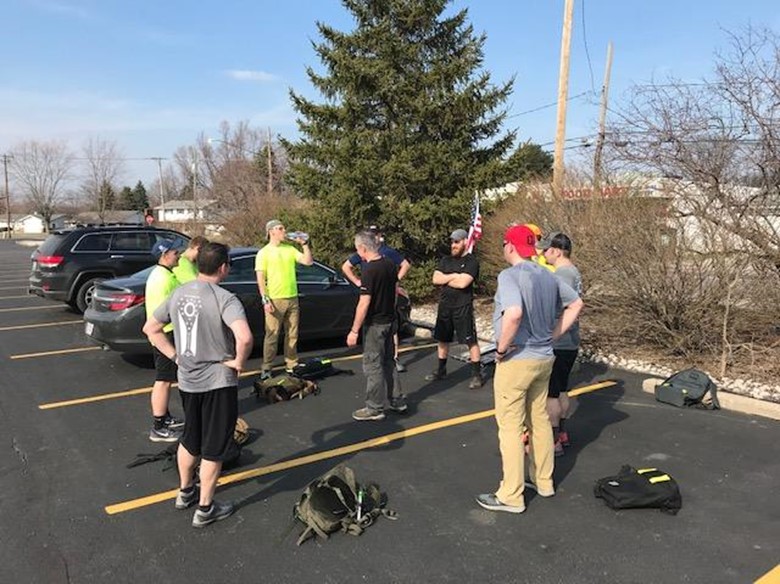 http://f3toledo.com/wp-content/uploads/2019/04/PubRuck3.jpg
542
723
Ticket
http://f3toledo.com/wp-content/uploads/2020/08/F3Logo-White.png
Ticket
2019-04-08 21:09:00
2019-04-08 21:09:03
April 2019 Ruck - Backblast